We believe that God knows and is deeply grieved with what is happening to the unborn. He expects us to be at this place of "death" as His Loving, Living Witnesses to this city and Stand in the Gap and pray!
Standing in the Gap in Action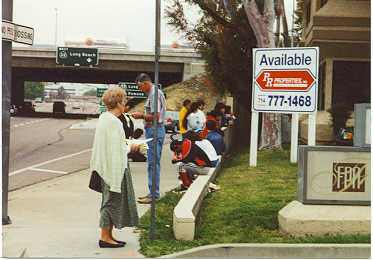 This group is participating in a "Standing in the Gap" prayer vigil at the abortion clinic at Chapman and the 57 freeway in Orange, California. These folks are using the Standing in the Gap prayer booklet developed by and available through Crusade for Life.
To order prayer booklet call, write or e-mail using order form available through link below:
Crusade for Life, Inc.
18030 Brookhurst St., Box 372
Fountain Valley, CA 92708
(714) 963-4753